Gold Standard VER - Carbon Offset Projects
Supporting carbon reduction projects with additional social & community benefits

Gold Standard VER (Verified Emission Reduction) projects provide strong additional social and humanitarian advantages in addition to high quality carbon offsetting - providing your business with strong CSR benefits.



| | | |
| --- | --- | --- |
| | How much do you want to offset? | |

Need to offset over 100 tonnes CO2e or Corporate Emissions?
Call us to choose your project and get the best prices
Below is a selection of carbon offset projects from our extensive Gold Standard VER portfolio:
Efficient Stoves, Sakhile, South Africa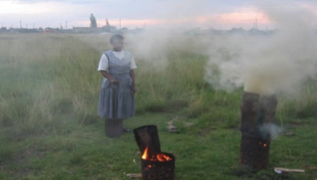 The project activity is the introduction of an alternative ignition technique for domestic coal fires & stoves that causes households to switch from a less efficient ignition technique with significant greenhouse gas emissions to a technique that results in considerably less emissions. This introduction is done by demonstrating the technique to members of coal using households through well-orchestrated demonstrations in streets, houses and public places. The effect of the project activity is that coal users start to use an alternative top-down ignition technique that leads to a 50% reduction in coal consumption and GHG emissions. It also leads to a drastic reduction in indoor and ambient air pollution, better visibility and reduced health risk.

Cooking Stoves, Ghana, Africa
The project reduces greenhouse emissions by distributing fuel-efficient charcoal stoves to households. The improved charcoal stoves reduce fuel consumption by using a ceramic liner that increases combustion efficiency and retains heat. The stove consists of hourglass shaped metal cladding with perforated interior ceramic liner that allows ash to fall to the collection chamber at the base. A thin layer of cement is placed between the cladding and the liner to bind the two. During use, a single pot rests at the top the stove.

| | |
| --- | --- |
| | Following a carbon footprint calculation, these Gold Standard VER certified projects meet the requirements under the Quality Assurance Standard (QAS) for Carbon Offsetting. |
Offset credits from these projects also meet BSI's PAS 2060 guidance on carbon neutrality, therefore assuring your carbon neutral claims.
Call our Sales Consultants on +44 (0)1256 345645 to discuss your carbon offsetting / carbon neutrality requirements.