ISO 14001 and ISO 9001 transitioning
ISO 9001:2015 and ISO 14001:2015 Updates are here
The International Standards Organisation (ISO) have updated their popular Management System Standards. Revisions to ISO 14001 and to ISO 9001 have now been released.
Updates emphasise a high level structure and proactive risk management to support core business strategies.
---

ISO 14001:2015 Gap Test
The Gap Tool is quick and easy to use and provides you with an understanding of what you need to focus on to transition your ISO 14001:2004 system to the new 2015 version of the standard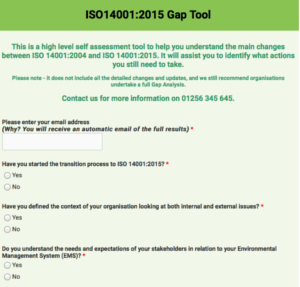 ---

Key changes to ISO 14001
Based on Annex SL, all standards shall take a new high level structure following a common layout, incorporating identical core texts and common terms to keep consistency with other management systems.
Section 4: Understanding organisational Context to embedded Strategic Environmental Management within the wider business agenda
Section 5: Promoting Leadership roles and commitment from top management
Section 6: Protecting the Environment through a proactive approach using risk management procedures and environment improvement programmes
Section 7: Increased requirements regarding Internal and External Communications
Section 8: Greater focus on environmental performance through the value chain using Lifecycle Analysis tools
Section 10: Use of key performance indicators to measure continual improvement in an organisation's Environmental Performance

---
Carbon Footprint provides full services for ISO 14001, ISO 9001 and ISO 50001
ISO changes awareness training - classroom and e-learning options
Strategy & planning - gap analysis to assess and plan what you need to do to comply
Integration - put your ISO 14001, ISO 9001 and ISO 50001 together to reduce costs & maximise impact
Implementation support - full documentation support
Internal auditing - preparing you for external certification, save time & cost
Carbon Footprint is already ISO 14001:2015 certified - get support from our Experts
There is a 3 year transition period for existing certifications to move to the 2015 standards. An early start will give your organisation an increased competitive advantage. It is recommended that you engage with stakeholders regarding upcoming changes and establish a proposal for undertaking transition work.