Calibrate your carbon performance - and plan to prosper
Worried about the Carbon Reduction Commitment energy efficiency scheme?
Facing supply chain pressures to go green?
Losing market share to more sustainable competitors?
Hit by increasing energy costs ?
Facing stakeholder / media questions about sustainability?
Whether your organisation is just starting out on its carbon management programme or if you have a plan in place, our Carbon HealthCheck provides a highly affordable way to calibrate your status and identify the next steps you need to take to reduce business risk & develop business opportunities.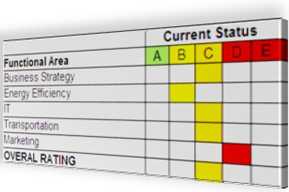 You get
On site consultancy
Tailored Carbon HealthCheck report
A rating of how well you are doing right now
Recommendations to save you costs
Recommendations to reduce emissions
Recommendations to improve sales
On-site consultancy support from just £550 ex VAT*
* conditions apply

We are delighted with the information and support Carbon Footprint Ltd have given to the Low Carbon Action Group businesses we are working with ... they have helped the businesses to clarify their current carbon footprint position and identify opportunities to make real carbon & cost savings. They have also helped the delegates to better understand how to communicate their low carbon credentials as part of their green marketing plans and responding to customer questions. Sustainable Business Advisor, Business Link Hampshire & IOW

Call our sales consultants to find out more and to book an on site visit
+44 (0)1256 592599
or e-mail us at info@carbonfootprint.com