Supply Chain Footprint
Services to Calculate the Environmental Impact of Your Supply Chain
Download our new Supply Chain Target Setting White Paper
Supply Chain Footprint assessments are becoming essential for business - particularly for large organisations that rely on numerous quantities of supplied goods and services. By assessing the environmental impact of your supply chain, you will be able to identify the major emissions sources to focus targets and develop supply chain/procurement procedures to reduce carbon emissions.
The methodology to assess the carbon emissions associated with a supply chain footprint follows best practice such as the Greenhouse Gas (GHG) Protocol and UK government guidelines. Where data is not available, emissions can be modelled using annual spend allocated by Standard Industrial Classification (SIC) codes for goods and services.
Supply Chain Footprint Target Setting is becoming a necessity and we are now helping many clients to forecast emissions out to 2050, using passive and active scenario models.
Supply Chain Footprint assessments can be great additions to company Carbon Footprint Appraisals to give you a better understanding of your Scope 3 emissions and help you to go above and beyond with your carbon management. As well as this, it can help with compliance with the Carbon Disclosure Project, allowing you to answer "Yes" to questions in section C12. Engagement.
As part of a Supply Chain Footprint services, we provide you with:
Dedicated project manager

t

o lead your project



Assessment of the carbon footprint of your supply chain
Detailed report with a breakdown of your supply chain's emissions / footprint

Support during the data collection process
Recommendations of changes to be made to your supply chain
Marketing support
Standards
The Carbon Footprint Standard - The results of the assessment will help your company to reduce the emissions associated with your supply chain. Following the assessment, you will be awarded the Carbon Footprint Standard Assessed Supply Chain logo: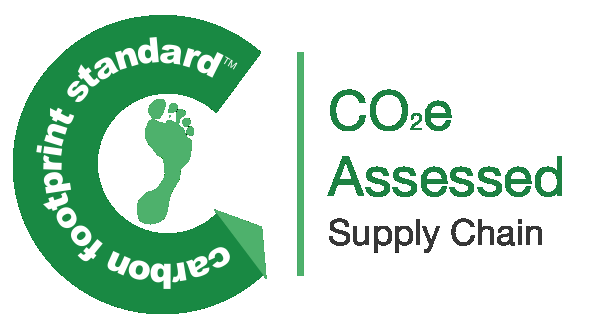 Supply Chain Footprint support is provided via 2 different services to meet your needs:
Supply Chain Footprint Appraisal - To assess an already operational service, the data from the previous year is assessed & you will qualify for the Carbon Footprint Standard .
Supply Chain Footprint Verification- For those wanting to complete their own assessments, we can help by providing you with methodologies and/or suitable emission factors. We also provide Verifications of the assessments to bring confidence in your calculations; via this route you will also qualify for the Carbon Footprint Standard.
Other Services

If you haven't already assessed the carbon emissions for your company, we strongly recommend doing this before measuring your supply chain footprint. We can calculate your emissions with an Carbon Footprint Appraisal, or we can verify your calculations with a Carbon Footprint Verification.
Tailored support is available on request depending on level of requirement. Contact us to find out more.

---
Contact Us to discuss your requirements