Lifecycle Software and Tools
For Carbon Life Cycle Assessments (LCAs) of Products
LifeCycle TrackerTM - Life Cycle Analysis for products and services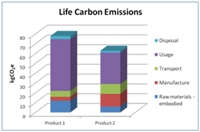 Whether you want to make your own quick assessment of carbon content within your product, to carry out eco-design or to complete a full PAS2050 analysis, our LifeCycle TrackerTM delivers highly affordable & authoritative performance.
Cost effective & easy to use – Simple interface cuts out complexity, cost and reduces your resource needs
Authoritative – uses latest emissions factors and industry database values
Easy to interpret – helps you rapidly identify carbon 'hot-spots' and target them
Fully supported – initial training and hot-line support by our expert environmental consultancy team available
Verification service - we can verify your calculations so you can make confident statements in your market



Don't have the resource to do the assessment?
Carbon Footprint Ltd can also provide you with a fully managed service
to assess carbon footprints of your products.