Life Cycle Assessment (LCA)
Services & Tools
Carbon Labelling for your Products & Services
Need to know the carbon impact of your product or service for winning tenders, differentiate your brand in the marketplace, or gathering information for Carbon Labelling? We specialise in carbon life cycle assessment (LCA) to provide robust independent assessment to meet your client needs and fit with your budget. Our
LifeCycle Tracker TM tools
also provide a route for you to assess your own. Depending on your business's profile,
you may also be eligible for funded support
.

We provide two different approaches to LCA, both providing you with
An assessment of the Greenhouse Gas (GHG) emissions of your products or services
Detailed reporting with a breakdown of your product emissions
Support during the data collection process
Recommendations to reduce your product emissions after the assessment
Marketing support
PAS 2050 based LCA
We offer Life Cycle Analysis to PAS 2050, which is the most widely recognised specification for GHG life cycle assessment, at national and international level, and will soon become an ISO standard.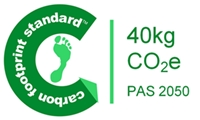 By assessing your product or service emissions towards this specification, you will also receive the Carbon Footprint Standard endorsement, to help you to promote and to display on your product, packaging and marketing materials.
We recommend this approach if you have strong supply chain requirements.
Carbon Footprint based LCA
Carbon Footprint Ltd offers a low cost alternative to traditional LCA, so that you can assess your product or service carbon footprint at a fraction of the cost of a traditional LCA. The results will help your company reduce the emissions and costs associated to your products or services.
We recommend this approach if your main aim is to reduce the carbon footprint of your products (or services) and identify opportunities to reduce costs.
Carbon neutrality
Make your product or service
carbon neutral
by offsetting the carbon emissions associated to its life cycle. We offer support in drafting carbon management plans, a full range of high quality
carbon offsets
, as well as marketing support.
Call us to Scope out your project +44 (0)1256 345645