Emission Factors
Find emissions factors to help with
Product Life Cycle Factors for Individual/Bulk download
Carbon Footprint Ltd provides a unique resource, enabling you to search for free and download individual carbon Life Cycle factors you need for your Product Life Cycle Analysis (LCA). Our Download tool holds GHG life cycle emission factors for over 4,500 common products, materials and processes, including Ecoinvent factors as well as extensive records from Carbon Footprint Ltd's Life Cycle Inventory (LCI) databases drawn from internationally recognised and traceable sources *.

Many businesses are now calculating the emissions of their products and services - some to actively reduce carbon footprint of production and others to meet supply chain needs to disclose carbon emissions, e.g. in sales tenders. Whatever your reason for carrying out an LCA, our Download tool will help you quickly and at low cost to get the datasets you need.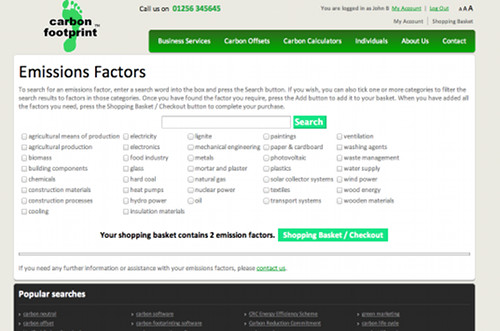 A Simple & Straightforward process
Free to view category based searching

Download as many of as few emission factors as you need

On payment you receive the full record and licence for use together

with citation information

Enables your Carbon Life Cycle Analysis
Reliable & authoritative - Get up to date emission factors & their source

Cut costs - no need to buy entire databases

Cut time - our simple LCI quickly helps identify the factors you need
* EcoInvent emission factors are used under licence. Other Carbon Footprint lifecycle emission factors are free-issued but may have a small administration charge, other factors are provided for free.
Need a large set of product life cycle factors? Call our team for needs of 100 or more life cycle emission factors
LifeCycle Tracker software

Our easy to use software can be partnered with your own or downloaded emission factors for you LCA project.
Easy to use & comprehensive

Full training and support

Supports PAS2050
Product Life Cycle Verification
Once you have completed your Product Life Cycle Analysis, Carbon Footprint Ltd can provide a
verification service
to assure accu

racy of your reports to stakeholders and within marketing materials.
Lack time/resource to complete Product Life Cycle Assessment?
Call our team to discuss our managed service option.
Have you got a database of emissions factors you wish to share here?
please contact us.
Call us to discuss your project
+44 (0)1256 592599