International travel has a role in business, culture, education and is a very significant component of some countries' economies. We all realise that...
However, international travel also comes with a hefty carbon footprint.
The world - and specifically airlines and aircraft manufacturers - need to accelerate their developments and roll-out of truly sustainable aviation, which is why we have announced the Freedom Flight Prize.
As users of commercial flights, we need to make informed choices about the best airlines for us. In the table below, we summarise the performance of some of the UK's favourite airlines.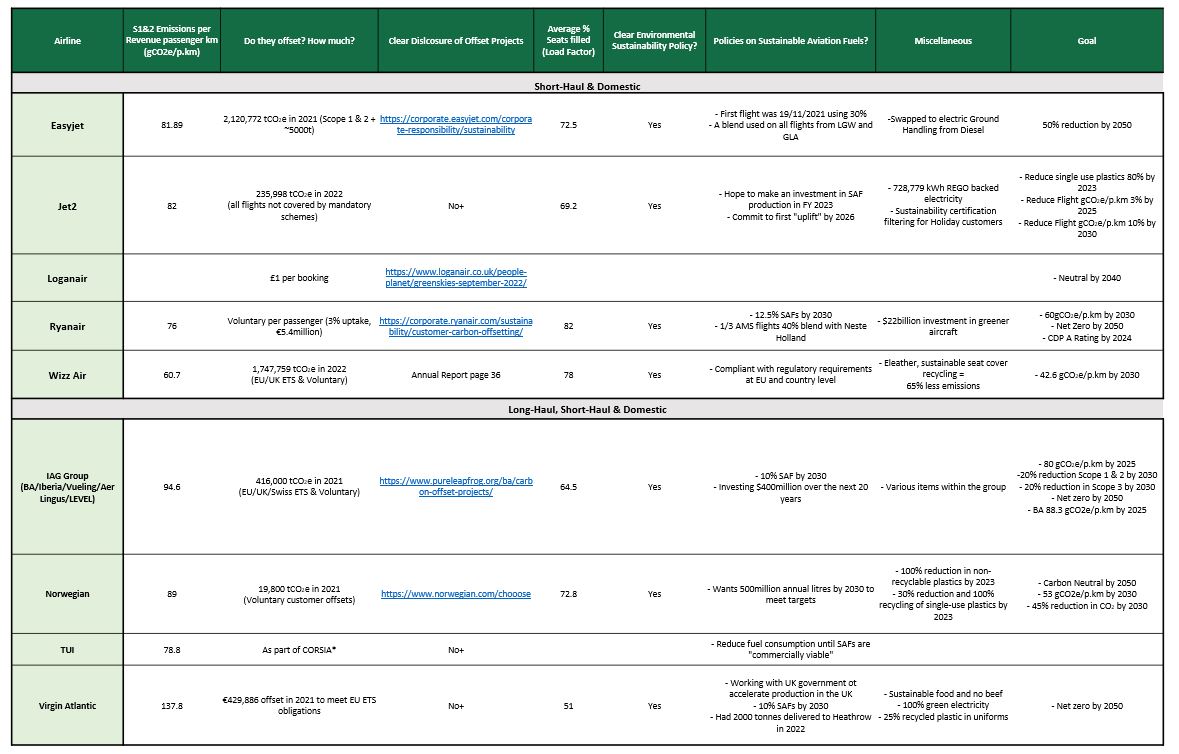 In the 2021/2022 financial years, all airlines were affected by the COVID-19 pandemic (EU restrictions in place until July 2021 & for the Omicron variant in November 2021 to January 2022). Low load factors (therefore high emissions per passenger.km) were a result of airlines maintaining landing slots and pilot flying hour.
* Carbon Offsetting Scheme for International Aviation.
+ In our opinion clear evidence of project name, identification codes and profiles not readily available from carrier web-site.
What to look for in a good Airline?

Of course we want to see renewable electric planes (just imagine a fully electric A-340) but the industry is someway off this now. Instead look for:

Lowest emissions - lowest kg CO2e per passenger km
Commitment to reduce the emissions of the airline fleet
Use of biofuels - at least in part
Public disclosure of the airlines complete carbon footprint - nothing hidden!
Clear policy on sustainability and delivery (not platitudes or buckets full of greenwash on web-sites)
If carbon offsetting is available/being used - is it clearly traceable, quantified and internationally certified
What can you do next?

Until truly sustainable flights are available, we strongly recommend that you limit your flying - consider other less carbon intensive means of travelling/doing business. When this is not possible you should compensate for the impact that you flights have - you should only do this via fully transparent certified carbon offsetting projects.
Did You Know... A European Economy Class Return Flight Causes Between 0.3 to 1 tCO2e per Person
A single economy flight can represent more than 10% of an average person's annual carbon footprint.
You should, as a bare minimum, compensate for the damage done by offsetting these flight emissions now. To actually give something back to the environment we suggest you double-up and offset twice the amount to actively then support projects that are improving our environment.
Measure and Offset your Flight Emissions now
Airlines - this page is for you