Engaging learning packages to help meet your Sustainability goals.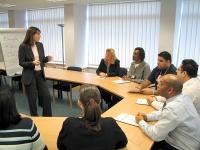 Carbon Footprint Ltd provides a wide range of training programmes to educate and foster buy-in within your Company. Whether you required a broad Environmental Awareness workshop or have a specific need within Carbon or Sustainability management, our tailored courses will help you meet your goals.
Our highly experienced team of sustainability consultants will work with you to tailor your training to your requirements and will also facilitate delivery


Example Training Packages
Environmental Awareness
Carbon Management for Results
ISO14001/Environmental Management System
Please contact us for further information and a quote for your business
It is advised that businesses should undertake a Carbon Footprint Business Appraisal before conducting employee training. Please see our Business Appraisal page for further information.