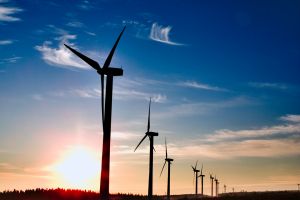 Renewable energy is clean, safe, and inexhaustible…
but it's also vastly under-used. Currently UK suppliers are only required by law to buy green energy as 3% of their total spend - that seems like lip-service to us, and we know we're not alone...
60% of people surveyed in a recent BMRB poll said they consider pollution and climate change the biggest environmental challenge we face.
82% believe reducing our use of fossil fuels is important.
32% would give up cigarettes to pay for a green tariff.
The easiest and quickest way to reduce your carbon footprint...
Switching to green energy is one of the easiest and quickest ways to reduce your carbon footprint. There are many on-line services that allow you to quickly and easily compare green energy tariffs to get the best deal in your area, and start saving money on your energy bills.
Where does renewable energy come from?
If you switch to renewable energy it is most likely to be coming from Wind Power, or Hydroelectric Power. Other sources include Solar Power and Wave and Tidal Energy.
There are also other largely untapped sources such as biomass, landfill gas energy and combined heat and power (chp).
It is also possible to install Solar Water Heating and Small Wind Turbines on to your own house.
So how do green energy tariffs work?
When you use electricity on a green energy tariff, the supplying company will put energy from renewable sources back into the Electricity Grid.
Green energy currently costs more to produce - however some suppliers do not charge a premium, so green electricity shouldn't cost any more than you pay with your current supplier. In fact, if you also transfer your gas supply to them it is likely to be cheaper.
The more people who sign up to green energy the cheaper it will become in the future, and remember, many suppliers are already selling it as cheap or even cheaper than you may currently be paying for your electricity.