INSPIRE12 Awards name Carbon Footprint Ltd
Company is short-listed for its carbon software
Carbon Footprint Ltd, the sustainability and carbon management specialists, have just been named finalists for the INSPIRE12 Business Awards for Innovation Excellence. The company, which help businesses to reduce emissions, operating costs and develop sustainability credentials that help them meet with regulations and win sales, have developed some of the web's most highly used carbon calculator & sustainability tools – most of which are completely free to use.
The sustainability experts, Carbon Footprint Ltd, have for several years now been at the forefront of free to use carbon management tools for businesses and home-owners. Their tools are used by over 2 million users Worldwide on their web-site www.carbonfootprint.com.
Carbon Footprint provides the tools to their users to help them to recognise the impact on the environment (and cost) that their emissions cause and provides advise on how to reduce this. Users if they wish can also choose to go 'carbon neutral' by carbon offsetting emissions via projects into the UK and global locations.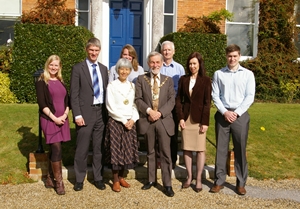 The news was broken on the same day that the Mayor and Mayoress of Basingstoke and Deane visited the business.


This year, Carbon Footprint Ltd has carried out significant innovations to their on-line tools including providing new functions to measure and analyse monthly emissions in a simple and intuitive way; it is this that the INSPIRE12 Award nomination recognises. Also this year Carbon Footprint Ltd have developed new Elearning tools to help organisations to spread awareness and bring about cost cutting (and often job saving) cultural change
Said Managing Director, John Buckley,
"We are thrilled to be a finalist for the INSPIRE12 Awards and particularly so in this category. It's really important for 'difficult' subjects like carbon and sustainability to be presented as easily to as many organisations and homeowners as possible if we're to make a difference – and that's exactly our philosophy. "
---ENDS---
Carbon Footprint Ltd is a leading carbon and sustainability consultancy helping businesses to reduce costs and increase competitiveness.
Contact: Dr Wendy Buckley

+44 (0)1256 592599
wendy.buckley@carbonfootprint.com