Sustainable Deployment of the LifeStraw Family in rural Kenya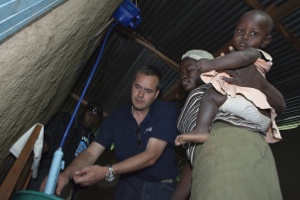 The Lifestraw® Family units treat contaminated drinking water via a special microbiological filter. This reduces the demand for conventional water treatment, which is achieved through boiling water with non-renewable fuels. With the assistance of carbon finance, this project becomes economically sustainable and, moreover, provides a significant improvement in public health.
Over a billion people in the world lack access to safe drinking water.

Water-borne disease is a leading cause of illness in the developing world, contributing to the death of on average 2,000,000 children every year.

Families boil drinking water, using wood which they frequently struggle to afford and which is from non-renewable resources anyway
LifeStraw® is helping to alleviate this situation – meeting both humanitarian and environmental goals
How LifeStraw® Works & How it Reduces CO2 Emissions
The LifeStraw® water treatment system can filter up to 3 years of drinking water for a family of five.

The system requires no electricity or additional consumables beyond the unit itself.

Complies with US EPA guidelines providing treated water that is as-good or better than boiling for microbiological contamination.

Reduces demand for firewood for water treatment by boiling, which directly reduces CO2 emissions.
Social Benefits
Project will provide access to clean drinking water to over 4 million rural Kenyans

Reduced child and adult mortality

Reduced costs to families

Increased attendance at schools

Increased productivity in communities

Provides employment and education opportunities

Providing Clean Drinking Water

Improved Health
Reducing Household Costs
Creating Job

s

| | |
| --- | --- |
| | Following a QAS approved carbon footprint calculation, this projects meets the requirements under the Quality Assurance Standard (QAS) for Carbon Offsetting. As part of this we are audited to ensure all offsets sold are retired on appropriate registries within 12 months of you purchasing. |
Call our team on +44 (0)1256 592599 to discuss your carbon offsetting / carbon neutrality requirements