China Solar Cooker
Heqing Solar Cooker Project I & II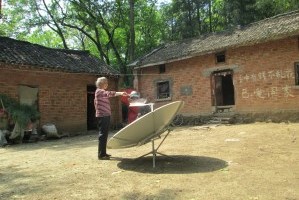 "Heqing Solar Cooker Project" is located on the rural area of Zhangye, Gansu province in northwestern China. The project has installed 49,000 solar cookers for the rural residents.
Coal is overwhelmingly the main energy source for rural residents in this region of China. The proposed project will enable the rural residents to efficiently substitute solar energy for the fossil fuel (coal) used in daily cooking and water boiling, avoiding CO2 emission that would be generated by fossil fuel consumption. It is estimated that 143,762 tCO2e emission reductions will be produced annually.
The rural area in Zhangye is an underdeveloped region and an ideal region for utilizing solar energy. Located at high altitude, this region has many sunny days. It is one of the most suitable regions in China for utilizing solar energy.
The development of the proposed project will also facilitate sustainable development in the following ways:
Providing rural residents with a clean, practical and convenient way to meet the energy demand of their daily cooking;
Improving the indoor hygiene of rural residents;
Improving the living condition and quality of rural residents;
The proposed project will significantly contribute to sustainable development of this region. It will serve as a model for future project. It will promote the use of clean energy, educate and train the rural population on solar energy technology, and build awareness in environmental protection among the rural population. 49,000 low-income households / about 196,000 villagers (average household has 4-5 people) directly benefit from the project. The rural residents will get clean and reliable energy supply for their daily cooking.

Reducing air

pollution

Creating Jobs

Saving costs
---
| | |
| --- | --- |
| | Following a QAS approved carbon footprint calculation, this projects meets the requirements under the Quality Assurance Standard (QAS) for Carbon Offsetting. As part of this we are audited to ensure all offsets sold are retired on appropriate registries within 12 months of you purchasing. |
---
Contact our team to discuss your carbon offsetting / carbon neutrality requirements