Top 10 Carbon Hits this Christmas
...or How to be Carbon Conscious Without being a Party Pooper...
We are often asked
what you can do to be sustainable during the Holiday Season
, avoid high utility bills - freeing you to support your favourite environmental and humanitarian causes this Christmas.
Now - we're quite a musical bunch here at Carbon Footprint (our hidden talents of french horn, piano, violin, guitar, ukelele, recorder and a bit of karaoke!!!) - so here's our top 10 by holiday songs!
Fairytale of New York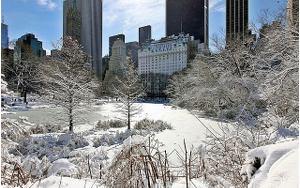 Flying off over Christmas?
Whether it's visiting friends/family or absorbing the Christmassy atmosphere your flight will count to your carbon big time!
Return trip London to New York is 1.63 tonnes of CO2e per person.
Calculate your flight carbon - offset via environmental projects

Driving Home for Christmas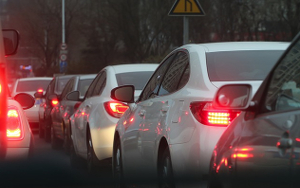 Make sure your car is winter weather ready - it is lower carbon and also much safer this way - check tyre tread & inflation pressures, use high gears safely and don't leave car idling in long queues - utilise start/stop facility if you have one. Think about travelling during quieter hours and cruise along in top gear, saving fuel and carbon! Travelling home from Uni or College? Can you lift share - London to Liverpool drive will seem much shorter with a buddy on board.
Car journey London to Liverpool (av petrol car) 25kg - Train for same journey is 10kg per person
Rockin' Around the Christmas Tree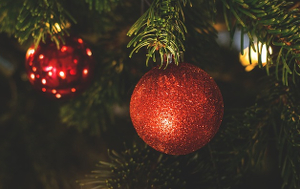 Which is better – real or artificial …is the perennial question.
Obviously a live tree that is allowed to grow from year to year is best – but we realise that most live trees are cut. Life cycle Analysis (LCA) of the American Christmas Tree Association 2011 showed that on a carbon basis, artificial trees are lower than real cut trees after 5y use. Trees in the UK are typically composted by local authorities (search 'Christmas recycling' which should pull up details of collections & collection points within your region) to make soil improvers, but this process releases about 50% of the CO2 sequestered. Be aware also that intensively farmed Christmas trees are often sprayed with chemicals, that are hardly supportive of biodiversity (look for Forest Stewardship Council approved trees)
All I Want for Christmas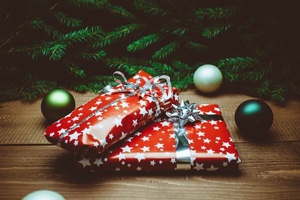 The vast majority of us don't keep our prizes from Christmas crackers much beyond the end of the meal; why not consider getting crackers with just the cheesy jokes and hats, making sure to recycle the paperand cardboard afterwards? Online shopping also saves stress and avoids unnecessary last second purchases at the checkout whilst reducing emissions from travelling! When wrapping those Christmas presents, consider reusing wrapping paper or making your own from magazines and newspapers around the house. Make sure to recycle wrapping paper and Christmas cards/ envelopes after Christmas.
Around 5 extra sackfuls of waste is produced per household - equivalent to an extra 1.4 tonnes CO2 over the Holiday Season more info.
Silent Night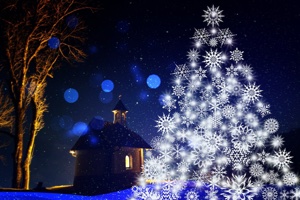 Put Christmas tree lights and outside house lights on a timer so that they aren't wasting electricity when you forget to turmn them off after a couple of sherries. Crack out your favourite Christmas jumper and turn down the heating by 1 degree which can save £42 each year for an average household gas bill of 12,500kWh. The heat from the turkey roasting in the oven on Christmas day will also provide extra heating to the house! Try and reduce TV time at Christmas by getting the whole family involved in interactive games or even going for a walk! Even by turning off your TV rather than leaving it on standby can reduce your energy bill.
Turning heating down 1oC saves £42 each year - that's 184kg CO2
O Little Star of Bethlehem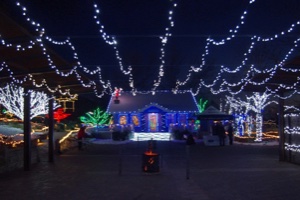 Choose LED lighting in your house and use / update to LED lights to light up your Christmas tree and outside your house and save money on your energy bill. LEDs can save up to 90% of lighting energy costs: using a standard light 100W bulb for 4 hours a day = £14.60/year but a low energy light bulb costs only £2.63/year.
Save 52kg CO2 per bulb per year
Last Christmas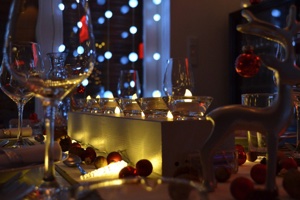 Did you make too much food you couldn't eat and ended up binning it? Prepare and plan for the right amount of food to minimise waste! Though we don't encourage 'BOGOF's if you do get one (two!) donate to a food bank. Simple and small things like letting people serve themselves so they only take what they want –rather than festive supersize will help prevent binning food.
Last year 4.2 million Christmas dinners were reported wasted across the United Kingdom - said The Independent. The figure is the equivalent to 263,000 turkeys; 7.5 million mince pies; 740,000 slices of Christmas pudding; 17.2 million Brussels sprouts; 11.9 million carrots and 11.3 million roast potatoes.
Chestnuts roasting on an Open Fire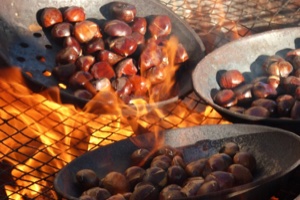 Or anything else cooking? Prepare and cook food in decent sized batches to make the most of hot oven. Don't leave the oven on when you don't need it - you will be just wasting energy. Make sure you choose the right cookware for the job (glass and ceramics are best for the oven, copper based pans for the hob). Also consider steam cooking those controversial sprouts and other vegetables as you can cook them all at the same time, it's healthier and requires less energy to cook all at once.
More info on carbon of common household appliances.
Do They Know It's Christmas
If you get something you wouldn't have chosen as your first choice (or you have already) - can you re-gift items to your local charity for those more in need to enjoy. For the homeless and the elderly Christmas can be a difficult time - your donations and also your time volunteering are valuable to organisations such as Crisis and AgeUK to name but two. Go on-line and see how your time can make a huge difference.
Happy New Year… Happy New Year
Make a Low Carbon resolution and stick to it – start by Measuring your Carbon Footprint and make a pledge of how much you will save in 2017.
Support Carbon Projects across the Globe
Gift Certificates available on-line
The team at Carbon Footprint wish you all a Very Merry Christmas