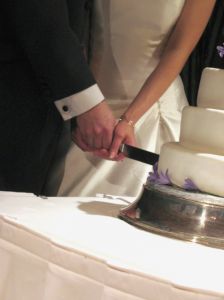 Avoid getting 10 toasters and gifts that you don't need that have been transported many thousands of miles – let your guests choose the gift of tree planting, to help prevent climate change.
How it works...
When you register your wedding with Carbon Footprint we'll set up a dedicated web-page for you FREE OF CHARGE with a special link that you and your guests will be able to access.
You can choose between planting trees in the region of your choice in the UK, or reforestation of the Great Rift Valley, Kenya.
Your guests will be able to go on-line and pledge a gift of one or more trees, helping to prevent climate change and providing wild-life & humanitarian benefits. You'll receive an attractive certificate, dated your Wedding Day and outlining the total number of trees pledged by your guests.
Want to know more?
Contact us at weddings@carbonfootprint.com and remember to let us know you and your partner's names and the date of your wedding.
Wedding List free of charge to set-up
Dedicated web-page set up for you & your guests
Happy couple receive an attractive personalised certificate, dated your Wedding Day and detailing the total tree pledges made
Receive a collection of messages from your guests.
Tree planting pledges provide environmental, wildlife & humanitarian benefits.