Holiday Footprint
Maximising Sustainability while at Home and Abroad
As you prepare to head off on a well earned summer holiday - think about the impact that you will have during your travel and whilst in your destination location.
The World Travel and Tourism Council (WTTC) has highlighted the 'real need for people to recognise their impact and how much water, waste and energy you should consume compared to the local population of your destination location'. Read more from the journal, Nature - Climate Change, on the impact of tourism on the carbon footprint of the planet.
Remember, the sustainable choices we make can have a real impact on the environment around us.
Did You Know?
Return flights to Rome, Italy for a family of 4 produces ca. 2 tonnes of CO2e
and return flights for four to Florida for Disney World, produces over 9 tonnes of CO2e!
---

Alternate Travel Methods around Europe
Instead of flying to Europe, travel there by land based transport. Europe has an extensive rail network meaning that almost every destination is accessible by train. Not only will this reduce your carbon emissions but it will also give you the opportunity to see some of the spectacular scenery that Europe has to offer.
Taking the Eurostar from London to Paris allows access to the rest of the European Rail Network. Other options of reaching Europe without flying include; boarding a ferry to cross the English Channel or taking your car on the Eurotunnel.
Examples of carbon emissions from different transport options for a family of 4:
Flying 4 people to Paris from London return in economy class emits 440kg CO2 for the family

Travelling by a

medium sized petrol car

from

London to Paris

via a ferry from Dover to Calais emits

173kg CO2 per car

Travelling by a

medium sized diesel car

from

London to Paris

via a ferry from Dover to Calais emits

156kg CO2

per car
Travelling on the Eurostar from London St Pancreas to Gare du Nord Paris emits 10.6kg CO2 per passenger

---

If you have to Fly - Offset your carbon
Flights are the main source of carbon emissions in your holiday footprint.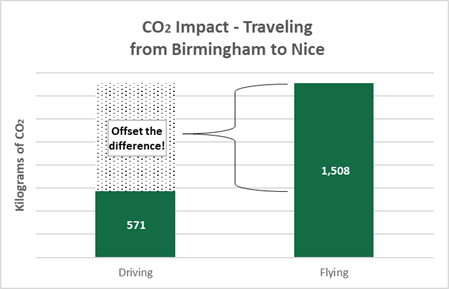 Where possible you should try to drive or use public transport to get to your location.
If you have to fly, you can compensate for this carbon intensive mode of transport though carbon offsetting.
Offsetting enables you to mitigate your impact on climate change. You can choose to support projects around the globe or to support the UK Schools tree planting programme in your region. Calculate the emissions your flight produces using our Carbon Calculator.
Here are some practical tips that you can use to reduce the overall emissions of the flight:
Travel light - most of the clothes we take on holiday are 'just in case' but seldom, if ever, do we need them. By sticking to just what you need, you will be reducing the payload of the plane, fuel usage and carbon emissions
Travel 'non stop' routes - some flights are labelled 'non direct', this often means that the plane can make multiple stops en route to your final destination. The extra take-offs and landings will add to the carbon footprint

Use electronic ticketing where possible - avoid the emissions associated with print out of tickets by holding them on your phone.

---

Get a bit of exercise - Walk or cycle
Once you have arrived at your holiday destination, walk and cycle whenever possible especially for short journeys. If you are unable to bring your own bike, look into hiring bikes at your location.
Sustrans has created a map showing all UK cycle paths
Eurovelo has information on 17 long distance cycle routes which could be incorporated into a cycling holiday.
Not only do cycling and walking have no carbon emissions associated with them but they also are great for improving health and well-being and most importantly are good fun for the entire family!
The UK and Europe have extensive public footpaths (short and long distance) that can be used on your holiday. Can you incorporate a walk or cycling to the tourist attractions?

---

Carry on Camping!
Camping is a great low carbon accommodation. There are a wide choice of campsites in the UK, Europe and the World you can choose from ( e.g. see Eurocamp). If traditional camping is a bit too basic for you, 'glamping' - a more luxurious camping option may be more up your street.
Campsites are often in close proximity to cycle and walking routes so not only can your accommodation be low carbon but your transportation can be too!

---

Go on an Eco-Holiday
There is a wide range of accommodation available including campsites, hotels and lodges that pride themselves in being eco friendly. This may involve using renewable energy, harvesting rain water, having energy efficient equipment and using locally sourced produce. Some of these will also offer learning courses, showing you how to become more environmentally friendly and how to reduce your carbon footprint. There are awards such as the Green Hotelier Award which can be used to identify hotels which promote low carbon processes.
---


Be Green on Holiday
Shop Local
Choosing produce that is made in locally reduces transport emissions. In the supermarket look on food labels to see where the produce was grown. There's a good chance this food will also be fresher too.
Go native - buy local brands rather than the familiar British brands (as these will have been transported large distances and they are frequently much more expensive too). Bring your reusable shopping bags - many EU countries charge for bags just as the UK does.
Hotels and Heating
If you are staying in a hotel with a thermostat in the room make sure you use it effectively. Here are some tips to save energy in your hotel room:
Don't have the windows open and the air conditioning/heating on at the same time
Only have the air conditioning or heating on when it is needed
Turning the air conditioning up will not make the room cool down any faster, be patient!
If you are staying in a hotel that offers cleaning services, don't put towels and bedding out every day to be washed unless necessary. This will reduce the energy used in washing, drying and ironing processes and so reduce carbon emissions.

Refuse, Reuse, Recycle
Say no to straws - straws are one of the most avoidable single use plastics, simply ask to not have a straw with your drink at the hotel bar. This is a very easy way to immediately reduce your plastic waste, within minimal effort.
Refuse plastic souvenir bags - instead use your own back packs/ handbags or bags for life to carry those precious holiday souvenirs.
Reuse plastic water bottles - in some countries the tap water is not drinkable so you can't avoid buying plastic bottled water. If you have to, try and buy bigger bottles that you can distil into smaller non plastic water bottles. And try asking for the hotel bar to re-fill your water bottles instead of buying new plastic ones. Always try and recycle your plastic water bottles before you leave.
Reuse plastic toiletries - when packing lightly, using travel sized miniature toiletries comes in handy. You can distil your larger bottles of shampoo and shower gel etc. into the smaller bottles. Make sure to keep reusing them for all of your trips.

Eco-Friendly Sun Cream
You may be aware of the ban on sales of products containing microbeads in the UK, which comes into force later this year, but you may not know that this only refers to rinse off products, so that leave on products such as sun cream are not included. Sun creams can further harm the environment as they often contain Oxybenzone which has been found to contribute to coral bleaching which kill corals and is toxic to other marine life, such as algae, fish and mammals. Fortunately, there are eco alternatives available to help you protect your skin and marine life. Before you go swimming in the ocean, check that your sun cream is coral reef safe and that it does not contain plastic microbeads.

---
Before You Leave Home
Turn off heating for your home and hot water
Check electrical appliances are switched off (and not standby!)
If you need to leave lights on for security reasons get some timers which can turn the lights on only when needed
If your refrigerator is empty (or can be emptied) - switch it off
---